DEFINE AND BLEND® BROW PENCIL
EASY NATURAL EYEBROWS
DEFINE AND BLEND® BROW PENCIL
EASY NATURAL EYEBROWS
RM29.9&nbsp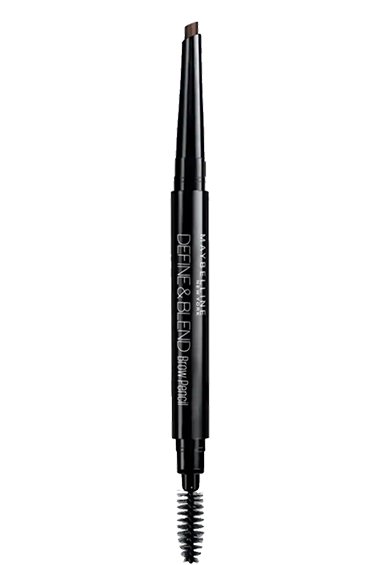 DEFINE AND BLEND® BROW PENCIL
EASY NATURAL EYEBROWS
RM29.9&nbsp
By clicking on this button, you are about enter an augmented reality visual experience.
The Define and Blend Brow Pencil is a makeup product designed to help you achieve well-defined and naturally filled-in eyebrows without appearing overly harsh or artificial. This brow pencil typically features a dual-ended design.

One end contains a retractable pencil or crayon that you can use to outline and fill in your brows with precise, hair-like strokes. This allows you to create a clean, defined shape for your eyebrows while mimicking the appearance of natural brow hairs. The formula is often smudge-resistant and long-lasting to ensure your brows stay put throughout the day.

The other end of the pencil often includes a spoolie brush, which is used to blend and soften the applied color, ensuring that your brows look natural and not too "drawn in." This step is crucial for achieving a polished and harmonious brow appearance that complements your facial features.
Unique Sword Tip: This brow pencil features a distinctive "Sword Tip." This term suggests that the pencil's tip is specially designed to have a precise and sharp edge, somewhat resembling the shape of a sword. The benefit of this unique tip is that it helps users achieve perfectly defined brows with precision and accuracy. The sharp edge allows for clean lines and sharp angles, making it easier to shape and outline the eyebrows to your desired look.

Dense Spoolie: In addition to the specialized tip, the pencil comes equipped with a "Dense Spoolie." A spoolie is a brush used to comb and groom eyebrow hairs. The term "dense" indicates that this spoolie has tightly packed bristles. The advantage of having a dense spoolie is that it allows for easy blending of the product applied with the pencil. After defining your brows with the pencil, you can use the spoolie to soften and blend the product, creating a more natural and well-blended brow appearance. This step is essential for achieving a polished and subtle finish.
Precise Definition: The unique Sword Tip enables precise and sharp definition of the eyebrows.
Easy Blending: The dense spoolie brush makes it effortless to blend the product for a natural-looking brow finish.
Convenience: The combination of the specialized tip and spoolie brush in one pencil provides a convenient tool for achieving well-defined and blended eyebrows, making it a valuable addition to your makeup routine.
Step 1: Draw in brow-like strokes with our slim angled tip.
Step 2: Shape your brows starting from the inner brow down to the tail
Step 3: Brush out the lines for natural definition.
HYDROGENATED VEGETABLE OIL ● OZOKERITE ● COPERNICIA CERIFERA CERA / CARNAUBA WAX ● RICINUS COMMUNIS SEED OIL / CASTOR SEED OIL ● SORBITAN TRISTEARATE ● C10-18 TRIGLYCERIDES ● TOCOPHEROL ● LECITHIN ● GLYCERYL STEARATE ● ASCORBYL PALMITATE ● GLYCERYL OLEATE ● CITRIC ACID ● [+/- MAY CONTAIN CI 77491, CI 77492, CI 77499 / IRON OXIDES ● CI 77891 / TITANIUM DIOXIDE ● MICA ● CI 77510 / FERRIC AMMONIUM FERROCYANIDE ● ]