FIT ME MATTE + PORELESS® POWDER FOUNDATION
24H OIL CONTROL + SPF44/PA+++
FIT ME MATTE + PORELESS® POWDER FOUNDATION
24H OIL CONTROL + SPF44/PA+++
RM59.90&nbsp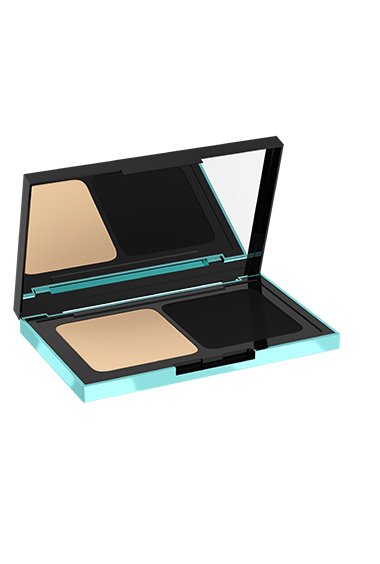 FIT ME MATTE + PORELESS® POWDER FOUNDATION
24H OIL CONTROL + SPF44/PA+++
RM59.90&nbsp
By clicking on this button, you are about enter an augmented reality visual experience.
Maybelline's Fit Me® Ultimate Powder Foundation is a makeup product that delivers a smooth and refined skin finish. It seamlessly blends with your skin tone and texture, providing a natural look. This foundation contains blurring pigments that help minimize the appearance of pores and control excess oil, leaving your skin with a polished and matte appearance.
24HR Oil Control: This product is designed to provide 24-hour oil control, making it ideal for individuals with oily or combination skin. The formula helps regulate excess oil production, reducing shine and maintaining a matte complexion throughout the day.

SPF 44: One of the standout features is the high sun protection factor (SPF 44). Sun protection is crucial for shielding your skin from the harmful effects of UV rays, including premature aging and potential damage. The inclusion of SPF 44 offers substantial sun protection, making it suitable for daily use to protect your skin from the sun's rays.

Full Matte Coverage: The foundation offers full matte coverage, which means it provides a complete and matte finish, concealing imperfections, blemishes, and uneven skin tone. Full matte coverage helps you achieve a flawless and polished look.

8 Skin-Fitting Shades: Fit Me Two Way Cake comes in a range of eight skin-fitting shades. This variety of shades allows you to find the perfect match for your unique skin tone. Finding the right shade ensures that the foundation blends seamlessly and looks natural on your skin.
The application instructions you provided are for the "Fit Me Two Way Cake" foundation. Here's a step-by-step guide on how to apply it using the included applicator:

Start with a Clean Face: Ensure that your face is clean and moisturized before applying any makeup. This provides a smooth canvas for the foundation.

Use the Included Applicator: The foundation typically comes with a sponge applicator or a powder puff. Take the included applicator and dip it into the product.

Apply to Key Areas: Begin by applying the foundation to the key areas of your face. These areas usually include the forehead, nose, cheeks, and chin. These are commonly referred to as the T-zone.

Blend with Gentle Downward Strokes: After applying the foundation to these areas, use gentle downward strokes to blend it outwards towards your hairline and jawline. This technique helps ensure an even application and avoids harsh lines.

Pay Attention to the Neck: To achieve a seamless look, make sure to blend the foundation down to your neck, especially if there's a noticeable difference in color between your face and neck.

Check for Even Coverage: Take a moment to inspect your face in natural light to ensure that the foundation is evenly distributed and that there are no visible lines or uneven areas.

Set with Powder (Optional): If desired, you can set the foundation with a translucent setting powder to further control shine and extend its longevity.

Complete Your Makeup Routine: After applying the foundation, you can continue with the rest of your makeup routine, including concealer, blush, eyeshadow, mascara, and lipstick, as desired.

Remember that the key to achieving a natural and flawless finish is to blend the foundation well, starting from the center of your face and working outward. This ensures that the foundation seamlessly melds with your skin for a polished look.
TITANIUM DIOXIDE, TALC, SILICA, SYNTHETIC FLUORPHLOGOPITE, HOMOSALATE, DIPHENYL DIMETHICONENINYL DIPHENYL DIMETHICONE/SILSESQUIOXANE CROSSPOLYMER, VINYL DIMETHICONE/METHICONE SILSESOUIOXANE CROSSPOLYMER, OCTOCRYLENE, STEMIC ACID, ALUMINUM HYDROXIDE, PERFLUOROWYL TRIERIOXYSILANE / PERFLUOROHEXYLSHYL TRIETHOXYSILANE, CAPRYLYL GLYCOL, ETHYLHEXYLGLYCERIN, DIMETHICONE, METHICONE, HYDROGENATED PALM OIL, PERLITE, DISTEARDIMONIUM HECTORITE, TOCOPHEROL, OLEA EUROPAEA FRUIT OIL / OLIVE FRUIT OIL, CAMELLIA SINENSIS LEAF EXTRACT, DEXTRIN, CHARCOAL POWDER,